Join the
Pretty In Fiction Book Club
!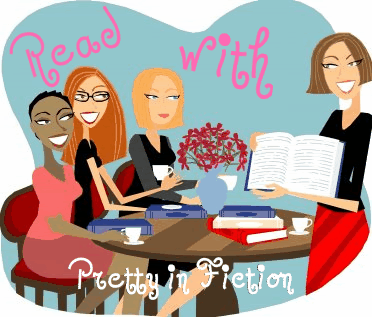 Each month, come read a book or two with us here at
Pretty in Fiction
!
You can find each month's current reads located on your left-hand sidebar (just find the button version of our pic and you're in the right place!), read along with us, then discuss the books in the proper posts, or on our Goodreads
Group Discussion Page
. It's that easy!
If you're reading one of our past month's reads, yet still want to play along, no worries, just find the proper post/discussion and share your thoughts with us.
We look forward to talking books with you Pretty Readers, so:
Welcome to our Club!
* If you'd like to suggest a book to read with us, feel free to comment your choice below, or @ the appropriate Goodreads thread (all comments below will be deleted when it's time to suggest more books.)
Now accepting suggestions for the month of:
CLOSED
Vote for the BotM for
January, 2012
here
!
January, 2012
* Group Reads
Book Suggestions
December, 2011
* Crossed, by Ally Condie Discussion
* Divergent, by Veronica Roth Discussion
November, 2011
* Reading free-for-all. What did you read?
October, 2011
* Group Reads Book Suggestions
* Marked (House of Night #1)
* Anna Dressed In Blood
September, 2011
* Group Reads Poll
* Group Reads Poll #2 - Tie Breaker
* Bloodlines vs. Vampire Academy 1. The Protags|2. The Guys|3. The Books
* Bloodlines, by Richelle Mead Review
August, 2011
* The Forest of Hands and Teeth, by Carrie Ryan Review|Discussion
* Blood Red Road, by Moira Young Discussion
July, 2011
* Delirium, by Lauren Oliver Review|Discussion
* Heist Society, by Ally Carter Discussion
Pretty in Fiction's Book Club
25 members

Pretty In Fiction is a blog dedicated to YA/Teen books. Check us out here, or at our website for re...
Books we're currently reading
Blood Red Road
by
Moira Young
Start date: August 8, 2011
The Forest of Hands and Teeth
by
Carrie Ryan
Start date: August 8, 2011
View this group on Goodreads »