Today we have the pleasure of having a guest post from Hal Eisenberg, author of
Overnight Sensation
, which is about today's world of instant fame and how some people will do just about anything to achieve it. In this post, Hal talks about the teen stars he envisioned when developing the characters and the music that inspired him while writing the book. We also have an awesome
giveaway
featuring two
Overnight Sensation
Prize Packs! Be sure to
scroll to the bottom
to
ENTER TO WIN
! First, here's a little about
Overnight Sensation
:
"
J
onah Levine is practically invisible at Applecrest High. His Facebook page is pathetic, his baseball skills are mediocre at best, and his IQ seems to drop 50 points when talking to girls. But everything changes when his rock band, Hitstreak, becomes the hottest teen sensation in the country. And now they're about to perform in front of 15,000 screaming fans.
So why isn't he jumping for joy?
Well, for starters, that hit on the radio wasn't really recorded by his band. In fact, six months ago, he and his friends could barely play a note between them. And now they're about to perform in front of 15,000 screaming fans. What begins as a mindless prank quickly spins out of control, involving his father's secret past as a '70s rocker, a high school bully who wants in on the action, and a ruthless media mogul who will stop at nothing to claim the band as his own. Will Jonah prevail? Or will he and his band go down in flames and become the biggest farce in pop music history? ~ Courtesy of Goodreads
"
Guest Post by Hal Eisenberg
When I began writing
Overnight Sensation
, I already had a plan to develop it into a screenplay and pitch it as a theatrical release, which I am now doing! So, I started thinking about who could play each character's part. The lead character is Jonah Levine, a 15 year- old who gets drawn into a scheme of pretending to be in a band that acquires instant fame when they take credit for song on the radio which was really recorded by someone else. That's when
Drake Bell
came to mind.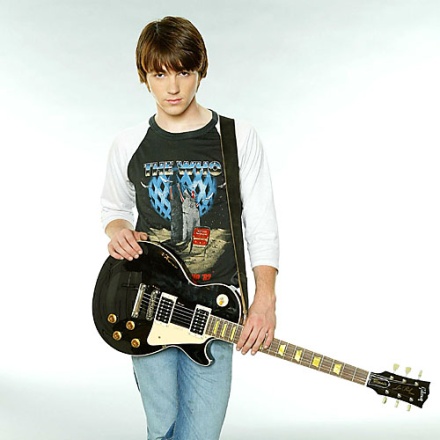 When envisioning his best friend, Jess, the twenty four hour-a-day flirt that chases anything with long legs and a pulse, I pictured
William Moseley
.
For Jonah's other friends and members of the band, Kyle and Bart,
Michael Cera
and
Nathan Kress
were my choices. When you read the book, see if you agree.
As for the music, the first song that played in my head from the very beginning was a song few had ever heard. It was written and recorded by some friends of mine in a band, the Raves, and it's called,
Every Little Bit Hurts
. It's got a retro feel, but I could also envision a band like Maroon 5 doing it as well. If you visit my site,
www.hal-eisenberg.com
, you can hear it for yourself. There's also a contest where teen bands can record their own version and download it to win prizes.
After Jonah learns about his dad's secret past as a '70s rocker, he convinces him to get the old band back together and they play all the classic rock songs Jonah grew up listening to like The Beatles, The Beach Boys, The Doobie Brothers and Chicago. I had all of these groups playing on my iPod while writing the book. And as the boys began to form a real band of their own, I listened to bands like Train, Muse, Maroon 5, and Linkin Park.
Towards the end of the book, the boys get to meet Chris Martin from ColdPlay, so
Yellow
and
Paradise
were in the mix as well. When you read it, see what songs come to mind and feel free to share them on my site. And if you're an aspiring writer, I urge you to keep going and write about what you love. The rest will take care of itself!
To find out more:
Visit Hal's site:
http://www.hal-eisenberg.com
Find Hal on Facebook:
https://www.facebook.com/OvernightSensationTheBook
Contact:
hal@hal-eisenberg.com
Be sure to check out our interview with Hal
HERE
! And
ENTER TO WIN
one of two
Overnight Sensation
Prize Packs, including a signed paperback copy of the book, bookmarks and guitar picks!
Image of the Overnight Sensation Prize Pack
a Rafflecopter giveaway
For more on Overnight Sensation check at these sites!
Tweet