Guys, who's psyched for the
YA Sisterhood's second annual YA Crush Tourney
? We are! And we're especially excited this year because...
We're an advocate! That's right. We will be representing one of the many swoon worthy crushes this time around.
And who will we be representing, you ask?
*drumroll please*
None other than the incredible the oh-so-gorgeous American-French-English masterpiece, Etienne St. Clair from
Stephanie Perkins
'
Anna and the French Kiss
!
The tournament kicks off July 6th, so get prepared to make some hard decisions in the near future. Etienne will be facing off against Simon (
The Mortal Instruments
) on July 18th. If you'd like to help represent Etienne let us know! Feel free to
tweet us
or
email us
!
We ask all of you to take a button and help us represent Etienne in the Tourney! And be sure to
VOTE
come July 18th!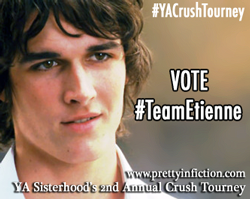 We'll have more updates in the future, but for now here's the schedule for Round 1:
Schedule for Round 1
Friday, July 6th, 2012
Match 1: Will (1) vs. Vincent (32)
Match 2: Zachary (16) vs. Alex (17)
Monday, July 9th, 2012
Match 3: Christian (9) vs. Adam (Shatter Me) (24)
Match 4: Eddie (8) vs. Sam (25)
Wednesday, July 11th, 2012
Match 5: Four (4) vs. Tucker (29)
Match 6: Magnus (13) vs. Tod (20)
Friday, July 13th, 2012
Match 7: Finnick (12) vs. Kaiden (21)
Match 8: Jem (5) vs. Gale (28)
Monday, July 16th, 2012
Match 9: Adrian (2) vs. Cricket (31)
Match 10: Alec (15) vs. Noah (18)
Wednesday, July 18th, 2012
Match 11: Simon (10) vs. Etienne (23)
Match 12: Patch (7) vs. Percy (26)
Friday, July 20th, 2012
Match 13: Dimitri (3) vs. Archer (30)
Match 14: Ash (14) vs. Aiden (19)
Monday, July 23rd, 2012
March 15: Daemon (11) vs. Augustus (22)
Match 16: Peeta (6) vs. Lucas (Starcrossed) (27)
For more about the YA Crush Tourney and the YA Sisterhood check out their site HERE!
Tweet