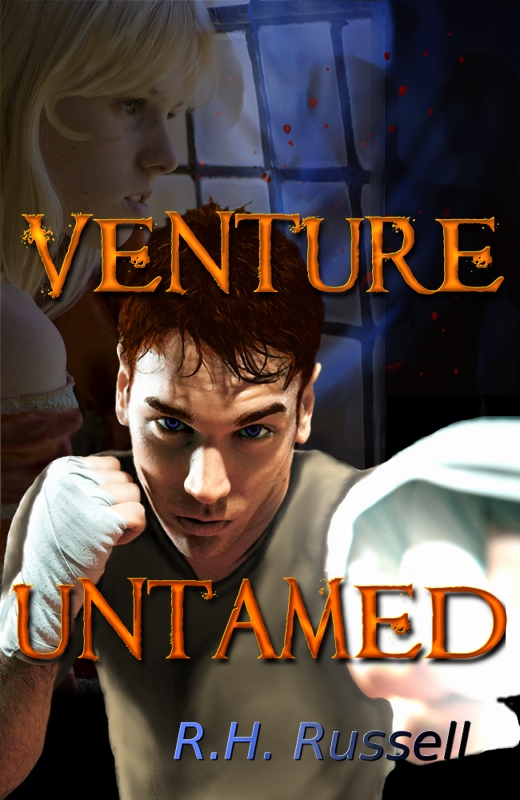 Today we're talking to
R.H. Russell
, author of
Venture Untamed
. Russell has had years of experience in the world of professional fighting and now he has used that experience to write about Venture, a young man who will need to fight in order to make his dreams come true. Make sure to
scroll to the bottom
of this post to
ENTER TO WIN
a digital copy of
Venture Untamed
for yourself! Here's a synopsis of
Venture Untamed
:
Venture Delving is a bonded servant, a member of the lowest class in the world. Already fatherless, when he loses his mother, he veers from energetic to out of control. But when Venture's rage saves the life of Jade, his best friend and his master's daughter, Venture finds himself in the last place he ever expected—a center renowned for training young boys to be professional fighters.
When Venture realizes he's fallen in love with Jade, he knows that the only way he'll ever have her, the only way he'll ever be free to live the life he's meant to live, is to defy convention, common sense, the trust of those he cares about most—and sometimes the law—and become the best fighter in the world, the Champion of All Richland. Venture must battle not only rival fighters, but the ghosts of his past and the members of a privileged warrior class who stand between him and his dream. ~ Courtesy of Goodreads
Tell us a little about yourself.
I grew up traveling the world as an army brat, and now travel the country as a coach with a non-profit judo team. I write the
Venture Books
, a YA / adult crossover series about a fighter. My upcoming middle grade series, Unicorns of the Mist, begins with Wonder Light (Sourcebooks 2013). I'm also the author of Linked, a young teen novel about a magic charm bracelet, written as Lisa Alden. I've been an active member of Verla Kay's Message Board for Children's Writers and Illustrators since 2009, and I blog at
wordwrestlerwrites.wordpress.com
.
Venture Untamed is about a young man who gets the opportunity to train to become a prize fighter. What motivated you to write Venture's story?
I've been involved in combat sports since I was a teen and my experience with fighters of all sorts fueled this story. The world of fighters is really fascinating, and I wanted to share it with readers in a unique way—a way anyone could identify with, because I truly believe there's a fighter in all of us.
Can you tell us a little about the world Venture lives in without giving too much away?
Venture Delving is a bonded servant, a member of the lowest class in his world—a world where unarmed fighting is the dominant sport, and where a champion's prize is fortune enough to change a man's life forever. Venture dares to believe that he can be the best fighter in the world, the Champion of All Richland. But Richland is rigidly divided by class, and the privileged Crested warrior class will do anything and everything to stop him.
What were some of the challenges you faced while writing Venture Untamed? What was the most rewarding thing about writing it?
I really enjoyed letting Venture and his friends loose to play on the page. I had a great time writing about brawls and big dreams, betrayal and camaraderie, and of course the forbidden love between Venture and his master's daughter, Jade.
But during the years I spent writing and revising material for this series and pursuing publication, there was some serious upheaval going on in my life. It was hard to write about characters who were struggling at the same time I was dealing with real-life grief. But I began to feel like these made-up characters were showing me some very real truths as they dealt with loss, failure, and frustration of their own. It was satisfying to see them through it, and I think writing was an important part of how I dealt with those difficult times.
Thanks to R.H. Russell for talking to us today and for giving us this awesome giveaway of Venture Untamed! Make sure you ENTER TO WIN the first book in The Venture Books!
a Rafflecopter giveaway
Find out more about Venture Untamed at these sites!
Tweet