Hey, Pretties and fellow fans,
So last week, two very favorite authors of ours (well, mine, at least) announced something big: They would both be releasing short stories inspired by their awesome series' this Valentine's Day (today!). Now,I know we're cutting it close, so I'm sure many of you have already had a chance to read them, but for those of you who haven't yet, you're in for a very special (almost belated) V-Day treat.
Also, you should stay tuned, and check down below for your chance to enter our [delayed-start] 300 Followers (You guys are AWESOME!) GIVEAWAY!
First, for those Iron Fey fans missing their Ash/Megan adorableness, Julie Kagawa has been so kind to delight us with "nearly five thousand words of shameless FLUFF" (with very pretty, pink pages, mind you.) that takes place after the events that transpired in The Iron Knight. Sounds awesome, right? Well it gets better.
Not only is this story simply adorable, but Miss Kagawa had another special treat in store for us: She is giving a

way "
a special, library hardback edition of THE IRON KING" that she received from
FaerieCon.
To learn more about this giveaway and of course, to actually read An Iron Fey Valentine, be sure to follow this link here:
Julie Kagawa: An Iron Fey Valentine (plus contest)
Also, if you haven't already, be sure to check out our reviews of the Iron Fey series:
The Iron King
|
The Iron Daughter
|
The Iron Queen
|
The Iron Knight
/#shamelessselfplug
Now, for those of you still here, or who managed to pull themselves away from
Julie Kagawa's blog
and traipse their way back to this post: Yay, you! You paid attention. I did, indeed, say TWO authors had decided to treat us with a little love this Valentine's Day.
The second, but certainly not lesser, being none-other than Lauren Oliver, who is, of course the author of Delirium -- which, coincidentally was one of the first books I ever
reviewed on this blog
.
Quick show of hands: How many of us wanted learn more about Lena's BFF,
Hana
? Well, now we can. The short story released today via MTV.com is all about
Hana
.
Lauren Oliver's riveting, original digital story set in the world of her New York Times bestseller

The summer before they're supposed to be cured of the ability to love, best friends Lena and Hana begin to drift apart. While Lena shies away from underground music and parties with boys, Hana jumps at her last chance to experience the forbidden. For her, the summer is full of wild music, dancing—and even her first kiss.

But on the surface, Hana must be a model of perfect behavior. She meets her approved match, Fred Hargrove, and glimpses the safe, comfortable life she'll have with him once they marry. As the date for her cure draws ever closer, Hana desperately misses Lena, wonders how it feels to truly be in love, and is simultaneously terrified of rebelling and of falling into line

In this digital story that will appeal to fans of Delirium and welcome new admirers to its world, readers will come to understand scenes from Delirium through Hana's perspective. Hana is a touching and revealing look at a life-changing and tumultuous summer.
As another, added plus, this story, hopefully, will be enough to tide us crazed fans over until Pandemonium releases IN TWO WEEKS! (eep!)
That said, there is a bit of a catch. As of right now, Hana is available to read, for free, on MTV.com. That FREE reading is only available for a limited time, so hurry up and get your Pretty butts reading, because that FOUR-DAY clock is ticking down!
The Link:
LAUREN OLIVER: News, Thoughts, and Miscellany: Happy Valentine's Day, From HANA to You!!
NOW for some PiF fun:
It's taken us a few weeks to get this posted up, but FINALLY it's here. To show we are very appreciative of each of you very Pretty Readers, we're running a little giveaway from now, until the end of this month, so come and enter!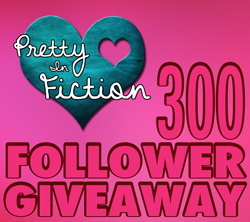 a Rafflecopter giveaway
Tweet