It's Friday, Pretties!
And, you know what that means: Friday meme time!
As usual, those memes are: Follow Friday is

hosted by

Parajunkee's View

and

Alison Can Read, and

TGIF

is hosted by Ginger, from

GReads!
Are you participating this week? We'd love to hear your answers!
Keeping with the Spirit of Giving this season, what book do you think EVERYONE should read and if you could, you would buy it for all of your family and friends?
Jesse
: If I had to choose a single book that everyone should read, I don't think I'd be able to. There are just so many to choose from. No matter what I chose I'd always feel as though I were forgetting an even better book. So I'm not going to choose a book. I'm going to choose an author instead. And that author is:
Jennifer Echols
.
I truly think that everyone should read
ALL
of Jennifer Echols' books. They're incredibly moving, but at the same time will have you practically peeing yourself. Especially if your reading any of her romantic comedies. She writes about important subjects, but in such a funny way that I try not to read her books in public. I can't help but bust out laughing and then people stare and it gets awkward. But they're just so good I usually end up not caring! So if you haven't read any of Jennifer Echols' books, seriously? What are you waiting for? And if you have, pick up another. They're
all
great.
Speaking of, I just remembered, her newest novel,
The One That I Want
,
so
needs to be added to my Christmas List!
Review: Love Story
Kira
: Can I just throw a whole library at people? That. Would. Be.
Awesome
!
Seriously, though, without using all the cliches out there that people say should be read (though, honestly, there is a reason people keep saying that, for the most part), it was hard to think of just one single book that I thought everyone should read. Especially since I know everyone's taste in books differs. And then, of course, there's always that elusive "something better" around the corner.
That being said, here are a few that I think make the cut, but that I don't think have been overly publicized (even it was well deserved. *cough*HungerGames!*couch* -- hehe...had to do that.):


Book to Movie: Which book turn movie do you feel did the best adaptation? What about the worst?
Jesse
: Hands down, the best book-to-movie adaptation I've ever seen is
Flipped
. I first read the
book
, by
Wendelin Van Draanen
, last summer. It was just the cutest story of first love, obsessive crushes, and learning to deal with the opposite sex. Then when I found out they were already making it into a movie, I could hardly stand it. I was jumping out of my skin in anticipation. I watched the trailer about a hundred times, worrying all the while about how theyhad chosen to adapt it. See, the book takes place in the 90's, but they changed the setting to the 50's for the movie. Which totally scared me because how can a more modern story take place in the 1950's and still have the same effect?! Worst of all was the fact that they didn't play it in any theaters around me since it was a limited screening! So I had to wait even longer to see it.
I started stalking it on iTunes. Waiting for it to go up for sale. When that day finally came, I dropped everything to watch it
immediately
. And to my sheer amazement, they did it
perfectly
. The setting, the actors, the writing. Everything was working together to make it one of the best adaptations I have ever seen. Seriously, read the book then watch the movie. You'll see what I'm talking about!
The
worst
adaptation I have ever,
EVER
seen is
Avalon High
. The
book
, by
Meg Cabot
, was a really cute re-telling of the King Arthur legend. I thoroughly enjoyed reading it. So when I found out that the
Disney Channel
had made a movie out of it I was psyched.
I know, I know. That was my first mistake. Thinking today's version of
Disney Channel Original Movies
could do justice to
any
story. But I trusted they'd stick to the story in the book. I mean,
really?!
How can you screw something like that up? It seemed like a home run to me.
But then I watched it. Oh god. It was the worst.
I mean, the first half was okay. It wasn't exactly like the book, but it wasn't terrible, so I kept watching. And then in the last, like, 15 or so minutes, they sucker punched me. They took a perfectly well-written ending and twisted it beyond recognition. It was the worst 15 minutes of crap I've ever seen. I don't know what the writers were smoking but whatever it was, don't watch
Avalon High
without smoking some of it first. Or better yet, don't watch it at all. Just read the book. You'll thank me later.
Perfect Harry-hair. Just saying.
Kira
: I think it's a lot easier to find the bad adaptations than it is to find the good ones. Part of the reason, admittedly being that there are some awesome movies out there that I have not read the books for, which kind of limits my choices. Still, I'm fairly confident in my answers.
The Best
:
The first three Harry Potter films
. More specifically the first two, for following the story line, but I liked the changes they did add to the third. Plus,
Prisoner of Azkaban
was the only movie they had the perfect Harry-hair. Sometimes it's the little things that matter.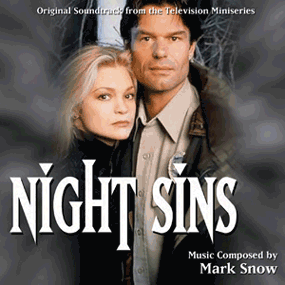 The Worst
: Back when I was in high school, I was very into crime thrillers, and the like. I borrowed this one book from Jesse and her mom called
Night Sins
by a-'til-then-unheard-of-by-me author, Tami Hoag. I was so drawn into her writing that there was a time period where the only books I was reading (excluding the mandatory school ones) were her books. I actually still own a good portion of her collection.
Anyway, one night during this phase I happened to see this one
made-for-tv movie by the same name
was coming on. I was like: uh-uh, no way. It can't be the same thing. I checked the description, and it was. So, eagerly, I flipped the channel, watched the film, then went to bed angry. I was not at all happy with what they had done with the screen play. It irked me.
Not too much going on this week. We're all trying to catch up on our reading ;)