Another week, and another round of our favorite memes. This week's questions from
Feature, and Follow Friday
(
Parajunkee
and
Alison Can Read
) and
TGIF
(
GReads!
) are holiday themed, which is fun. I know that I'm looking forward to seeing what books everyone is thankful to have received, or slapping on their holiday wish-list.
Ready for the fun?
Letter to Santa: Tell Santa what books you want for Christmas!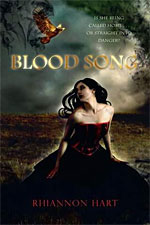 Jesse
:
Oh my list of books from Santa is looooonnnnnggggg, so I'll share just a couple. Number one on my list is Blood Song by Rhiannon Hart. Unfortunately it's only published in Australia and the shipping rates are ridiculous. So, unless Santa plans on getting me a copy while he's delivering presents down there, I'm afraid I'm not going to get to read it anytime soon.
I've also been dying to read Dark Heart Forever by Lee Monroe. This one is much more reasonably priced so even if Santa forgets to out it in my stocking, I may still be purchasing on my own.
Kira
: Santa can do ARCs, right? I only ask, because
the one I really, really, ridiculously want the most
(though I agree with Jesse, that I-WANT-IT!-GIMMIE! list is veeerrrrryyyy long) isn't released until the 24th of January, and that's a little late for Santa to bring it to me. Just saying. But look how pretty the cover is!
I guess, if I had to choose a more realistic option (in the sense that I can actually have it for Christmas), I'd have to go with another gorgeous cover,
Shattered Souls
(which I'll probably wind up springing for myself. It is released closer to my birthday...), or
Touch of Power,
by
Maria V. Snyder
.
Taylor
:
If I could have any book written or not written for Christmas, I would totally choose the sequel to The Host by Stephenie Meyer. She hasn't said anything about writhing it except that it starts off with jogging. That is a book that I would kill to have and it would totally make my life if I got it.
Giving Thanks: Which books are you most thankful for receiving from other bloggers, friends, family members, or publishers?
Jesse
:
One of the books I'm most thankful (to Kira) for is Crossed by Ally Condie. I've been dying to read it since I finished Matched, so when Kira recently purchased it I snatched it right up. I'm not to far in, but I'm already remembering why I loved the first book so much!
Kira
: Technically, I haven't yet received the book I'm most thankful for yet (I hear it's in the mail, though, so maybe today or tomorrow *crosses fingers and hopes*), but I've been uber excited about getting my hands on
Concealed
, by
Sang Kromah
(which you may remember from
a giveaway we held
in in October) for ages now. I won (which is why I'm VERY thankful) my own copy of this book at the beginning of the year (either that, or the end of last year, it was either December or January). I've been closely following the book's progress ever since.
On another note, I'm also very thankful (to Jesse, we buy and share
a lot of books) for buying
Lola and the Boy Next Door
(which my tbr pile is still preventing me from reading. grrr), because I LOVED
Anna and the French Kiss
(which she also bought, way back when, so technically I'm thankful for that one, too) soooo much, that I can't wait 'til I can finally squeeze this little gem into my schedule.
Taylor:
Technically,
Jesse didn't get the book for me at all, she got it for herself, but I most thankful for her getting Hunting Lila by Sarah Alderson. She had to buy the book from England because they didn't sell it anywhere else, but it was totally worth it!
* We totally squee'd over the release of the Hunger Games trailer.
* We had another of the lovely boys (John Quinn) from the Night World series (by LJ Smith) stop by for a date on My Book Boyfriend. (P.S. If you haven't yet,

be sure to VOTE for who you think should be our next featured Book Boyfriend

!)
* We (and by 'we' I mean Jesse, hopefully I, Kira, will have the review I've been working on up later today) reviewed The Pledge, by Kimberly Derting.
* We received our first photo from the winner of one of our giveaways! You can check out her pretty pick on this Giveaways! page.