Round 2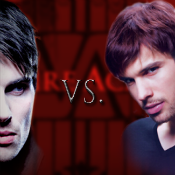 Week two of or
Bloodlines vs. Vampire Academy
September Group Reads
feature. This week we want to know:
Kira
: Adrian. Hands down Adrian.
This question is probably
the
question that fuels the
Bloodlines vs. Vampire Academy
debate here at
Pretty in Fiction
, and it's mainly because of Taylor. Jesse and I are quite happy to agree and gush over the amazing Adrian Ivashkov any day, but then in pops Tayl with some nonsensical statement about how god-like Dimitri is.
I don't get it, personally.
Sure, Dimitri has his own bad-ass awesomeness going on to match Ro
se
's, and I love him for it, but it's just not the same.
From the moment he first popped up in
Frostbite
, I've been hooked on Adrian. He was just such an intriguing, determined character, I had to know more. I found myself realizing that I tended to enjoy scenes more if he happened to be a part of them -- not that hard to imagine really, he's just one of those fun characters. And, he's just the right amount of crazy, too (can't help but love the crazy characters).
Sure, Dimitri technically "won" at the end of
Last Sacrifice
, and it broke my heart to see Adrian in such a devastated state. Still, I was also very excited. We already knew that a spin-off was in the works, and Adrian not with Rose meant that he
had
to be fairly prominently featured in the (at the time) upcoming
Bloodlines
. So far I haven't been disappointed -- nor have I seen Dimitri, yet, so I rest my case. Adrian is clearly the winner here.
Tayl
: Dimitri Belikov is one of my favorite YA characters. Ever. He's funny in his own Dimitri
I'm-so-serious
way. He is very responsible and I think that's one of my favorite things about him. Like, most people wouldn't make their girlfriend work if they had to train them but Dimitri does.
I have fought with Jesse about this. Full on battles. I want to get her to admit that she
loves
Dimitri Belikov before I die. It's on my bucket list. I've heard her admit it before but I want it on record. So far I haven't been able to get any hard proof.
Honestly, who wouldn't want a guy who's "the kind of hot that makes you stop walking on the street and get hit by traffic"?
Jesse
: There has been much debate about this question between the girls here at Pretty in Fiction. Who's the better love interest, Adrian or Dimitri? Tayl and I have fought, bitterly, about this. And she still refuses to see reason.
Tayl: (points to pic of Dimitri in VA graphic novel) Would you have this intenseness over here (rubs screen over Dimitri's abs) or the

other one

(Adrian

)

that's got nothin'?!
That's just an absolutely ludicrous argument.
Clearly
, the right answer is Adrian!
I mean, Dimitri has his good points. He's got good qualities. He's nice and loyal and protective, yet trusts Rose to take care of herself. And how can you pass on a guy described as "the kind of hot that makes you stop walking on the street and get hit by traffic"?
Easy. Enter Adrian Ivashkov into the equation.
He's beautiful and broken and sad, but still has a sense of humor. He, like Dimitri is tall, dark and handsome. Granted, he lacks some of Dimitri's physical qualities, such as huge muscles and super strength, but he makes up for it with his own special qualities.
Adrian is magic. Literally.
He controls the rare Spirit element, which allows him to do awesome things like healing people, raising people from the dead and growing plants just by touching the seeds. He probably has an amazing garden!
Besides, I just can't help myself. I'll always love the snarky, arrogant jerk.
Always
! It's my downfall.
But, honestly, who wouldn't want a guy who can heal your paper cuts just by touching you? I think the choice is clear, my friends.
Tayl
: Me. I happen to like paper cuts.
Jesse
: Seriously? No one likes paper cuts. They're so small it makes them hurt more. They're horrible little beasts. You're only saying that because it's a strong argument and you can't stand that I'm right!
Tayl
: Nuh-uh!
Jesse
: Ya-huh!
Tayl:
*walks away*
Jesse
: That's right! Adrian is love, people. Adrian is love!
So what do you guys think? Adrian, or Dimitri? Tell us who and why below!
The Giveaway:
We were having some technical issues with last week's poll and form, so decided to try something new. If you cannot see either the poll or the Giveaway's entry form, we are leaving the other methods of voting and entering open, If you cannot see the poll,
click here
to reach the Goodreads poll. If you cannot see the Rafflecopter form below,
click here
to be taken to the Google one.
All entries already made have been translated and transferred to the new form. All future Google entries will also be transfered.
We ask that when you enter, on one of the entry forms that provide an "extra" field that does not need to be filled out as per instructions (Make sure to click!), you tell us which of the two books you'd rather receive upon winning, or leave a comment on this post stating the same thing. It is not mandatory that you fill out each form of entry listed.