I know, I know. We're running a little late today. Time for some Follow Friday Blog Hop fun!
The
Book Blogger Hop
is first up today, and for those who don't know, it's a bookish meme hosted by the lovely
Crazy For Books
Today's Blogger Hop Question:
What's the LONGEST book you've ever read?" 
(Note: I'm putting one caveat on this question. You aren't allowed to say the Bible, Torah, Qur'an, or other religious/spiritual text.)
Jesse
: I think the longest book I've ever read was probably
Breaking Dawn
. I'm not quite sure because I usually read ebooks, but Breaking Dawn was huge and took me two days of nonstop reading to get through, so I'm going to say it's a pretty fair guess that it was the longest book I've read.
Taylor
: Breaking Dawn, by Stephanie Meyer.
Kira
: *runs off to check page numbers* I've read lots of books that are a good many, many pages long. Most of them—like my Complete Works of William Shakespeare (1228 pages), or The Chronicles of Narnia, or The Ultimate Hitchhiker's Guide—are books that consist of many stories, not just one, so I bet they don't count. 
That being said, the longest single-story book I've ever read is
Harry Potter and the Order of the Phoenix
at 870 pages long (which actually beats some of my multi-story books. Though, were you to count the whole series, which i've read a number of times, as one big story that would be 4100 pages, which would be a great deal more impressive, and one insanely gigantic book).
Feature, and Follow Friday
is another weekly bookish meme hosted by the pretty ladies at
Parajunkee View
and
Alison Can Read
.
This Follow Friday's question:
If you could write yourself a part in a book, what book would it be and what role would you play in that book?
Jesse
: I wouldn't so much write myself a part in a book as steal the role of one of the main characters. Belly Conklin's role in
The Summer Series
to be exact. As much as I love her character (and I do), I'd murder her off and bury her body under the boardwalk in Cousin's Beach if I thought I had a chance with Conrad Fisher.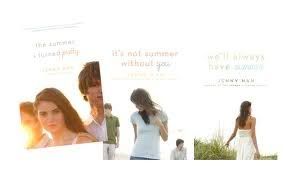 If you think I'm being a little extreme you haven't read
The Summer Series, by Jenny Han
yet. Trust me. After you do, you'll understand.
Kira
Preppers
, as the name entails, want to be prepared for when the poop hits the fan (SHTF - the end as we know it). These are the people who stockpile food, weapons, med supplies, water,  learn to fight, carry bug-out bags in the trunk of their car, make sure they know how to
live off the grid
just in case—you get the idea.  
When you go through all that trouble preparing for something that might never happen, or could happen tomorrow, who wouldn't want to see if they have what it takes?
Taylor
: The book would totally be
The Host
and I would be Ian O'Shea's best friend. I wouldn't want to be his girlfriend because I love Ian and Wanda to much...